When did you come to Ostrava? How long have you been studying at Ostrava University?
I came here on the 7th of February, 3 weeks before the war. My Erasmus was till the middle of May but then after the war started the university promised us that they will support us, so our Erasmus went on to the end of June. At the end of June, I graduated online from my Ukrainian university, I got my bachelor's degree.
Why did you choose to study at Ostrava University?
Our Ukrainian university gave nine people from my faculty, my department, the opportunity to come here to study at Ostrava University. Only my faculty socio-economical geography and regional development offer Erasmus. Ostrava university gave us opportunity to study with Erasmus only for 3 and a half months. In general, Erasmus is for like 5 months, but Ostrava University offered us shorter period of Erasmus and that's why I was able to come here.
What's your field of study? How is it different from studying in Ukraine?
My field of study is Socio-economical geography and regional development. Here in Ostrava it was a bit harder than in Ukraine, because, for example, they gave us a topic we had to read, and we had to analyse it and write about the topic. It was more interesting, but harder. I think it is more practical here because Czech students I know told me that it is not problem to find a job after you graduate. The best thing here at the university is that you can choose your subjects. In Ukraine you study the subjects that the university gives you.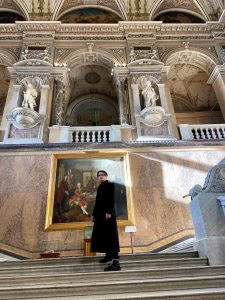 Is there anything specific that you like about Ostrava University?
Markéta Kováčíková, the PR specialist and coordinator for international relations at Faculty of Sciences of Ostrava University, helped us so much. She helped us to prolong our visas, she gave us the documents and all the information that we needed before we went to "cizinecká policie". She organised for us a meeting for Erasmus Ukrainian students with heads of our department of social and political geography. They talked about future, what we can do.
One teacher Jaroslav Kurfürst – he taught us, he organised for us excursion to ministry of foreign affairs in Prague, because he works there and a meeting with Mr. Jeffrey who works as a 1st secretary at the US embassy. We were given the opportunity to ask Mr. Jeffrey questions about his job. It was in May and before our final essay, so some of us (students) asked about their topic essay.
It was really exciting, when I was in Ukraine I didn't expect that I'll have the opportunity to visit the head of the US ambassy.
Is there any place in Ostrava that you like and visit often and would recommend to the readers of OU@live or that you visit often?
I would recommend Most Miloše Sýkory. I like to sit there by the river and talk with my friends, it is very peaceful place.
Are your friends mostly Erasmus students or Czech students?
Mostly Erasmus students, Ukrainian Erasmus students, but also Czech friends, for example my buddy Lukáš or Filip. With Filip we went to an event for Erasmus students, where Erasmus students met Czech students. The goal of the event was for Erasmus students to tell Czech students why they should try Erasmus. We were sharing our experience and telling them why it is a good opportunity to go to Erasmus.
What are the Czech students like at Ostrava University?
I know only Lukáš and Filip and they are really friendly. We met them and drank some beers.
Is it your first Erasmus, here in Ostrava?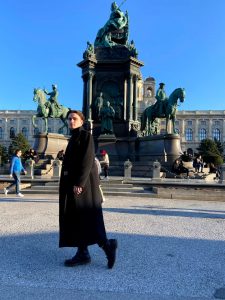 No, it is my second Erasmus, my first Erasmus was in Tallinn in Estonia. But this Erasmus I like better because I was too young then. Also, the dormitory was so closed. We had keys which only opened our floor. If you wanted to go to another floor you would have to ask someone. We had the opportunity to keep in touch with only people who lived in the same block. I don't really use Facebook much and that stuff. Very often I lost the opportunity to go somewhere with the Erasmus people because I didn't see it on fb and nobody told me. But on the other hand here I have subjects mostly with Erasmus students and in Estonia it was also with the Estonia students.
Have you studied or are you studying Czech? Why/why not?
Yes I did. I chose subject Czech language for foreigners here and this course was finished in May but from middle of March, university gave us some special courses for Ukrainians with some young and great students, they were amazing. So I studied 2 courses, Czech for foreigners and Czech for Ukrainians. It ended one or two weeks ago. It was A1 or A2. Ukrainian and Czech is very similar so I can understand what Czech people tell me but to speak Czech is harder.
What do you like about Czech? Do you have any favourite word or phrase? Do you plan to continue with learning Czech?
My favourite word is maybe the word "úžasný" – because it means amazing, but in Ukrainian it is absolutely different meaning. It means the worst, really bad. I want to know Czech language better because if I will pass this entrance exam I don't have any other choice I have to know the Czech language. But Markéta told us that the 1st years students will start like regular students. We will have the opportunity to have subjects not only in the Czech language but also English. It would be great to continue studying here. I sent my application, but I can't be sure of my results.
What are the Czech students like at Ostrava University?
I know only Lukáš and Filip and they are really friendly. We met them and drank some beers.