The coronavirus pandemic in the winter months of 2020 significantly affected the functioning of people across the planet. For months, the ubiquitous face masks and respirators together with various restrictions were shaping reality. Universities in Czechia and abroad switched to online teaching and for many months, student and staff exchange within Erasmus+, VIA or International Credit Mobility projects were suspended.
Internationalisation at home in practice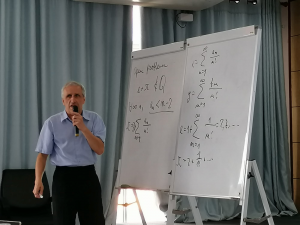 At our partner university in Can Tho, Vietnam, eleven mathematics students, who had to complete at least one semester at our University, were waiting for the international student exchange to restart. However, the health measures in Vietnam did not allow them to travel to Ostrava. Thanks to the flexibility and enthusiasm of the representatives of the Department of Mathematics, they got at least a small taste of online teaching.
They were able to experience first-hand what "internationalization at home" means. "It is admirable how well the students did. This is mainly because they joined our online classes in the afternoon and evening, always after completing their home courses," says Dr. Věra Ferdiánová, Coordinator of credit mobility at the Department of Mathematics.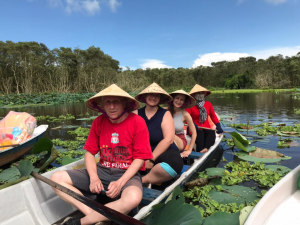 But time management was not the only challenge. Vietnamese students and Czech teachers had to harmonize different approaches in some areas of mathematics.
"The style of teaching mathematics in Czechia differs from the way it is done in Vietnam, which means that the feedback and needs of the Vietnamese students were slightly different from those of the Czech students. This ultimately required a slight change in teaching methods from our teachers. An interesting fact is that in Vietnam, geometry is hardly taught in primary and secondary schools (it is taught only marginally and in a different form). This also made the use of GeoGebra software in teaching very interesting for the students. Another interesting area for the students was number theory, as they managed to take two courses on this subject during one semester under the guidance of Associate Professor Jan Šustek," says Dr. Ferdiánová.
More PhD students from Vietnam are on their way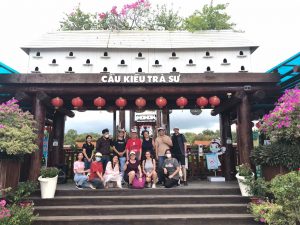 When the last measures preventing travellers from entering Vietnam were lifted this spring, two successive delegations from the Department of Mathematics and Faculty representatives visited the partner university in Can Tho. The agenda for each five-day visit already reminded pre-Corona times. It included teaching lectures and workshops for nearly two hundred students, as well as discussions with Can Tho University management on further cooperation.
A key topic of the cooperation talks was doctoral studies. "The negotiations largely focused on doctoral studies, as the partner School of Education does not yet have this study level. There is interest in applying for doctoral studies at our university among the Vietnamese students – mainly thanks to their online experience. As a result, two Vietnamese students may become doctoral students of our Department of Mathematics in the next academic year. They would join their three older colleagues from Can Tho University, for whom Ostrava became a second home some time ago," says Monika Kočvarová, the Doctoral study officer at the Faculty of Science, UO.
From Barrie, Canada to Ostrava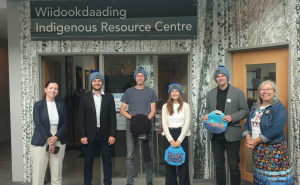 Similar to the Vietnamese students, the Canadian students from Georgian College were unable to come to the Faculty of Science due to anti-pandemic measures. Once again, planned activities hardly met with reality. Luckily enough, teacher and staff delegations from both universities took turns in Ostrava and Barrie. In April, a Canadian group visited the Department of Informatics and Computers, while representatives of our faculty went to Canada twice to discuss in detail various plans for further cooperation.
"We are planning joint projects with Georgian College in the so-called blended form, where a part of the teaching takes place online, and it is followed by a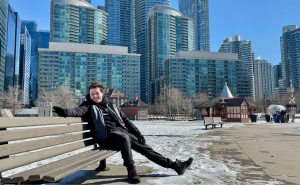 shorter, physical part, when participants of both teams meet in one of the participating countries. Due to our advantageous geographical location, the size of the university and the intersection of the topics taught, our faculty is also set to become a key partner in Georgian College's program supporting mobility of students from difficult socio-economic background. Within this programme, the Canadian side plans to send up to forty students to us over the next four years. We could welcome the first Canadian students in the summer semester of the upcoming academic year," says Markéta Kopecká, Coordinator of international cooperation at the Faculty of Science, UO.
Another example of the planned cooperation with Georgian College lies in including this partner in the list of universities under the VIA programme. This will expand the portfolio of Canadian universities to which our students can travel for their semester-long studies. Georgian College's advantage over other partner universities in Canada is its English-language teaching and great location near nature and lakes – all within an hour's train ride of Toronto.
It's not just the coronavirus that has affected international partnerships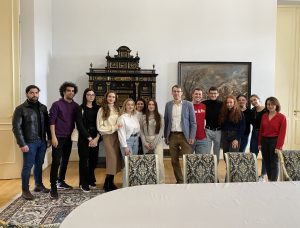 In addition to the coronavirus, international partnerships have also been disrupted by the war in Ukraine. Our Ukrainian partner, V. N. Karazin Kharkiv National University was about to send eleven of its students to study at the UO. Eventually, only nine of them arrived in Ostrava. The Faculty of Science, UO provided them with the necessary background, especially in difficult moments when their families and friends remained in war-torn Ukraine. At the Department of Human Geography and Regional Development, the students could experience more practical teaching when compared to their home university. Thanks to an external lecturer, leading Czech diplomat and our alumnus Jaroslav Kurfürst, students could visit the headquarters of the Ministry of Foreign Affairs of the Czech Republic and talk with their representatives. Despite the difficult situation, some of the Ukrainian students managed to complete both their Erasmus study in Ostrava and assignments from their home university. Three of them successfully passed their final exams and graduated online while on Erasmus in Ostrava. At the moment, some of them are still figuring out what to do next. Some have applied for full-time Czech study programmes and want to continue their studies in Ostrava.